That's what Brew Co. is all about.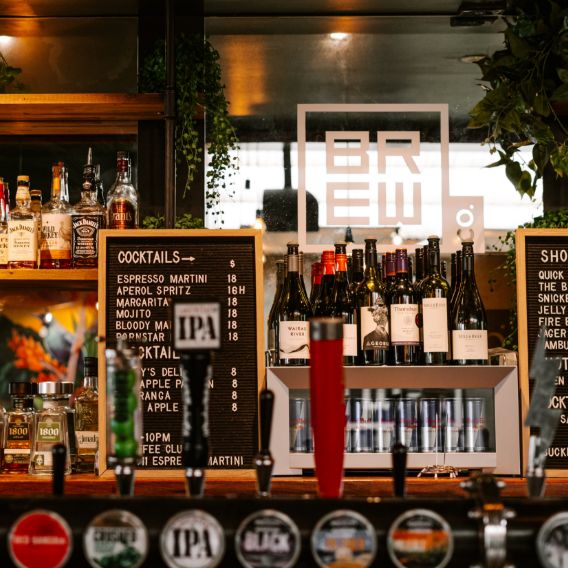 Situated in the middle of Mount Maunganui's Main Street, Brew Co. always hits the right vibe whether you're coming straight in off the beach for a beer or for a few cocktails on a girls' night out. We've got great beer, awesome food, and an epic list of events.
FROM OUR KITCHEN AND THE BAR
BAR SNACKS & SMALL PLATES
Bacon hock and fennel sausage rolls, tomato relish DF

Smoked honey BBQ, chilli, spicy peanuts, GF, DF
or
Southern fried, ranch, buffalo sauce GF

Smoked beef brisket, slaw, jus, pickles

SALT AND PEPPER CALAMARI

19

Lemon, aioli GF
Served in a toasted Brioche Bun with Fries

All 26
BEYOND BURGER

Beef pattie, halloumi, lettuce, tomato, roasted capsicum, pickles, chipotle, tomato relish V

BREW BURGER

Beef pattie, streaky bacon, cheddar, onion rings, cos, BBQ sauce, aioli

PINEAPPLE EXPRESS

Lemon and thyme grilled chicken, pineapple, cheddar, cos lettuce, tomato relish, sriracha aioli

BREW "MAC"

Double beef pattie, double cheddar, iceberg, pickles, burger sauce, red onion
Come down for a beer, a feed, and the vibe!